testimonianze

testimonianze

Quirky, funky apt in the best location with the BEST Host
When I booked this apartment I knew from the pictures it was different than most. We travel a lot so we have rented many on homeaway. This by far had to be one of our best experiences. Besides being within 5 minutes of the most beautiful part of town, the host Michele was the most attentive and gracious person I have ever met. The apartment could not have been more well supplied and he thought of everything a guest could need and he was there at a moments notice if needed. We have stayed in higher end, more expensive rentals, but this home made us feel at home, welcomed and well looked after. I cannot recommend this apartment more highly for your stay in Parma. We definitely will return. Grazie Mille Michele for all you did. Most appreciated.
Molto Bene. Audrey and Frank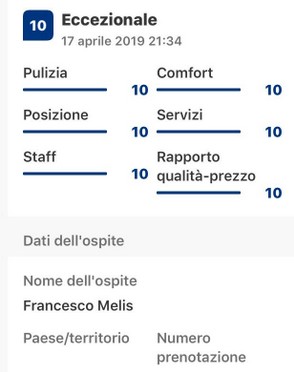 Bella cittadina praticissima da girare e ricca di storia.
Comoda per la posizione. Appartamento valido e disponibilità del proprietario.
Risposta del proprietario:
Ospiti perfetti , hanno lasciato in ordine e hanno comunicato sia per l'arrivo che per la partenza .
Consigliato per pulizia e posizione
La casa è pulita e in posizione centrale. Il proprietario gentile e disponibile. Solo l 'accesso alla camera al secondo piano è un po' scomodo data la strettissima scala a chiocciola. Consigliato
molto bene soprattutto per brevi periodi
L appartamento é ben tenuto, la cucina è dotata di tutto, le camere sono un po piccole ma a Parma non si va per dormire ! La posizione é ottimale, ci si arriva in macchina ma poi ci si può muovere agevolmente a piedi, il centro é a pochi minuti. La sera la zona é tranquilla e non dispiace uscire a piedi per gustare le specialità locali.
Il proprietario é discreto e premuroso
Loved Parma and our staying at the apartment made it a unique experience,. At our arrival Michele, the owner, welcome us with a bowl of fresh strawberries and oranges, and some other basic things so we could settle and relax. Although the apartment is in an old building it has been tastefully refurbished, it also has more than the basic, dishwasher, washer...loft plan, nice comfortable beds, clean sheets and towels...walking distance form the Historic Center(10 min or less), a mini market right around the corner, with fresh produce...but most of all, the friendly owner who leaves right across from the building, and was very helpful from finding a secure garage for our car to pointing us in the right direccion to enjoy Parma to it fullest!
We would definitely stay at this apartment again!
Risposta del proprietario:
Eduardo, Alexandra and their family are a very nice guest .
They left the apartment clean and in perfect condition.
They are always welcome !!!
• L'appartamento e confortevole, pulito, pratico-infatti molto meglio che nella descrizione. La cucina, il bagno, i letti erano preparati per noi e non avevamo bisogno di niente di più per cominciare la visita a Parma. Michele ha pensato di tutti nostri bisogni prima dell'arrivo e ha aiutato molto anche con il parcheggio. La qualità dei servizi era altissima. Grazie mille a Michele.
• L´appartamento è attrezzato alla perfezione e curato in ogni dettaglio. L´arredamento è chiaro, simpatico e funzionale. La posizione è davvero strategica, ad un passo dal cuore della città. I proprietari sono gentilissimi e disponibilissimi, per ogni tipo di quesito. Torneremo sicuramente.
• Die Wohnung ist sehr nett, Michelle ist ein aufmerksamer, hilfsbereiter Vermieter, Parma ist eine tolle Stadt und die Emilia Romagna eine wunderschöne Landschaft! Es war alles perfekt und wir haben in der Wohnung nix vermisst. Sie ist absolut empfehlenswert!
Data 16-ott-2014 G.Hovelg.
• Ottimo posto dove stare a Parma
This apartment is well furnished, spacious and clean. The beds were very comfortable and everything worked fine. The location is great - on a quiet street just a pleasant 5-minute walk from the center of the old town.
Michelle and Daria were very helpful throughout our stay and even helped us with a problem we need to follow-up after we left Parma.
Data 29/10/2013 Peta K. (Australia)
• Thank you, it was perfect. Beds were very comfortable. I hope we can stay longer another time! Shane Patricia and Ben
Data 26/09/2013 Patricia and Ben
• Un appartamento perfetto di stare a Parma. Luogo Molto centrale ma also Molto Tranquilla. L'appartamento molto piacevole e pulito e con Tutte i Servizi, Un Po di Più che normalmente. I propretari molto gentili. Buonissimo!
Data 18/07/2013 Tanja T. (Finlandia)
• We stayed at this lovely little apartment for 8 nights in June. The apartment is compact but well furnished. The beds are very comfortable and the duvets very cosy. The kitchen has what you need to cook a meal, if you can pass up the wonderful Parma restaurants! The apartment was very clean, has a great shower, and a useful washing machine. The apartment is a lovely walk to the centre, and I happily walked to the university every day. Perhaps those needing the loft should be aware that the spiral stair is fairly steep by North American standards.
Data 15/06/2013 Paula M. (Canada)
• Les propriétaires furent très disponibles et aidants répondant rapidement à nos demandes. Appartement agréable, très bien équipé et situé à une distanza à pieds du centre historique. Excellent séjour à Parma.Merci!
Data 10/01/2013 Denis B. - (Canada)
• "Appartement agréable et très bien situé. l''accès à la chambre à l''étage est un peu étroit. Propriétaire très agréable et serviable et qui parle bien le français."
Data 11/11/2012 - Signor Giovanni S. - (Svizzera)
• "This accommodation exceeded our expectations. I stayed for a little over a week with my daughter and had my son, who is working in the area stay 5 of the 9 days I was there. The owners lived across the street and were very helpful and responsive whenever we had any questions or concerns. They gave us good information regarding bus routes, where to buy groceries etc. but also respected our privacy during our stay. They were available but not intrusive. The entire apt. was thoughtfully arranged to meet a visitors needs. The kitchen was very well equiped, we cooked many meals and I was delighted to find every item I needed. The owners also left a binder with the manuals for all the appliances which we found very helpful including being able to change the clock on the stove to daylight savings time:) The area was great-good restaurants, cafe''s, groceries, shopping, galleries and museums all within easy walking distance. I am very comfortable recommending this apt. to anyone looking for clean,comfortable and convenient home away from home.g"
Data 05/04/2012 - Signora Virginia S. - (Regno Unito)
• Mooi centraal gelegen appartement, leuk ingericht en ideaal als uitvalsbasis. Er was te weinig (en wat onpraktisch) serviesgoed en keukengerei, zeker gezien het feit dat er een vaatwasser was. Voor de rest prima in orde; niet zo geschikt voor ouderen vanwege de trappen naar de tweede verdieping.
Data 24/10/2011 - Signora Anna D. - (Paesi bassi)
• "Nous avons passé un superbe séjour à Parme. Nous remercions Daria pour son accueil. L''appartement est trés bien situé et proche de tout, trés bien équipé et trés agr&able et quel plaisir de pouvoir bénéficier de la climatisation. Merci pour tout"
Data 19/07/2011 - Signora Pierrette N. - (Francia)
• "Excellent property. Very kind proprietors. Right in the heart of Parma. We'd love to return."
Data 02/07/2011 - Signora Ford A. - (Canada)
• "We have been to Parma on a few occasions but enjoyed our stay at this this lovely apartment most. Michele and Daria were very helpful and welcoming. The apartment is situated in a nice quiet central area and convenient for the sites and generally experiencing all that this fine city has to offer. The accomodation is compact but great for two people, very clean and comfortable. Everything we needed for our stay was there and we look forward to returning in the future."
Data 15/06/2011 - Signora JAYNE H. - (Regno Unito)
• "We found the apartment to be an excellent place to be located for access to the city of Parma. the owners were extremmely kind and helpful. We would not hesitate in recommending this apartment to our friends."
Data 06/03/2011 - Signor Roy K. - (Regno Unito)
• Casa perfetta arredata con cura e nuovissima.I prprietari sono disponibilissimi e molto gentili.Purtroppo gli affittuari prima di noi non sono stati molto rispettosi e hanno fumato per due settimane in casa lasciandola così abbastanza satura dell''odore di fumo che purtroppo se non si è fumatori è fastidioso. Per il resto dico solo DA CONSIGLIARE"
Data 28/01/2011 - Signor Bernardo F. - (Italia)
• "This is an absolutely wonderful apartment to rent. We were greeted by the hugely hospitable and friendly owner who left us an enormous bowl of really fresh fruit and a bottle of water in the 'fridge. And basics like sugar cofee etc were left for us and the cooker was very efficient The owner could not have been more helpful. The apartment was spotlessly clean, very central and furnished with huge style and immense flair and had a lovely atmosphere. And all very recently refurbished. I could not recommend it highly enough. It is located on a very quiet street and we were able to walk everywhere it is so central."
Data 28/10/2010 - Signora catherine f. -(Irlanda)
• "A wonderful little apartment - clean, central, and accessible to amenities. Everything was exactly as depicted in the photos on the site. The flat is very modern and aesthetically pleasing. The owner was friendly and helpful, and went out of her way to make us feel welcome and at home while we were in Parma."
Data 02/06/2010 - Signor Derek B. - (Canada)
• "Very central location, apartment is brand new, nicely decorated, very clean. Superb."
Data 17/05/2010 - Signora Giedre K. - (Lituania)
• "Très agréable situation dans la ville : tout se fait à pied ! Il est impératif de garer la voiture dans un parking payant en sachant que cela coûte 7 E par jour à rajouter à la location . Propriétaires charmants très à l'écoute des petits manques dans l'équipement . Logement "cosy" de très bon goût . Que du bonheur"
Data 06/05/2010 - Signora Colette G. -(Francia)
Les propriétaires furent très disponibles et aidants répondant rapidement à nos demandes. Appartement agréable, très bien équipé et situé à une distanza à pieds du centre historique. Excellent séjour à Parma.Merci!



Data 10/01/2013 Denis B. - (Canada)




"Appartement agréable et très bien situé. l''accès à la chambre à l''étage est un peu étroit. Propriétaire très agréable et serviable et qui parle bien le français."



Data 11/11/2012 - Signor Giovanni S. - (Svizzera)




"This accommodation exceeded our expectations. I stayed for a little over a week with my daughter and had my son, who is working in the area stay 5 of the 9 days I was there. The owners lived across the street and were very helpful and responsive whenever we had any questions or concerns. They gave us good information regarding bus routes, where to buy groceries etc. but also respected our privacy during our stay. They were available but not intrusive. The entire apt. was thoughtfully arranged to meet a visitors needs. The kitchen was very well equiped, we cooked many meals and I was delighted to find every item I needed. The owners also left a binder with the manuals for all the appliances which we found very helpful including being able to change the clock on the stove to daylight savings time:) The area was great-good restaurants, cafe''s, groceries, shopping, galleries and museums all within easy walking distance. I am very comfortable recommending this apt. to anyone looking for clean,comfortable and convenient home away from home.g"



Data 05/04/2012 - Signora Virginia S. - (Regno Unito)




Mooi centraal gelegen appartement, leuk ingericht en ideaal als uitvalsbasis. Er was te weinig (en wat onpraktisch) serviesgoed en keukengerei, zeker gezien het feit dat er een vaatwasser was. Voor de rest prima in orde; niet zo geschikt voor ouderen vanwege de trappen naar de tweede verdieping.



Data 24/10/2011 - Signora Anna D. - (Paesi bassi)




"Nous avons passé un superbe séjour à Parme. Nous remercions Daria pour son accueil. L''appartement est trés bien situé et proche de tout, trés bien équipé et trés agr&able et quel plaisir de pouvoir bénéficier de la climatisation. Merci pour tout"



Data 19/07/2011 - Signora Pierrette N. - (Francia)




"Excellent property. Very kind proprietors. Right in the heart of Parma. We'd love to return."



Data 02/07/2011 - Signora Ford A. - (Canada)




"We have been to Parma on a few occasions but enjoyed our stay at this this lovely apartment most. Michele and Daria were very helpful and welcoming. The apartment is situated in a nice quiet central area and convenient for the sites and generally experiencing all that this fine city has to offer. The accomodation is compact but great for two people, very clean and comfortable. Everything we needed for our stay was there and we look forward to returning in the future."



Data 15/06/2011 - Signora JAYNE H. - (Regno Unito)




"We found the apartment to be an excellent place to be located for access to the city of Parma. the owners were extremmely kind and helpful. We would not hesitate in recommending this apartment to our friends."



Data 06/03/2011 - Signor Roy K. - (Regno Unito)




Casa perfetta arredata con cura e nuovissima.I prprietari sono disponibilissimi e molto gentili.Purtroppo gli affittuari prima di noi non sono stati molto rispettosi e hanno fumato per due settimane in casa lasciandola così abbastanza satura dell''odore di fumo che purtroppo se non si è fumatori è fastidioso. Per il resto dico solo DA CONSIGLIARE"



Data 28/01/2011 - Signor Bernardo F. - (Italia)




"This is an absolutely wonderful apartment to rent. We were greeted by the hugely hospitable and friendly owner who left us an enormous bowl of really fresh fruit and a bottle of water in the 'fridge. And basics like sugar cofee etc were left for us and the cooker was very efficient The owner could not have been more helpful. The apartment was spotlessly clean, very central and furnished with huge style and immense flair and had a lovely atmosphere. And all very recently refurbished. I could not recommend it highly enough. It is located on a very quiet street and we were able to walk everywhere it is so central."



Data 28/10/2010 - Signora catherine f. -(Irlanda)




"A wonderful little apartment - clean, central, and accessible to amenities. Everything was exactly as depicted in the photos on the site. The flat is very modern and aesthetically pleasing. The owner was friendly and helpful, and went out of her way to make us feel welcome and at home while we were in Parma."



Data 02/06/2010 - Signor Derek B. - (Canada)




"Very central location, apartment is brand new, nicely decorated, very clean. Superb."



Data 17/05/2010 - Signora Giedre K. - (Lituania)




"Très agréable situation dans la ville : tout se fait à pied ! Il est impératif de garer la voiture dans un parking payant en sachant que cela coûte 7 E par jour à rajouter à la location . Propriétaires charmants très à l'écoute des petits manques dans l'équipement . Logement "cosy" de très bon goût . Que du bonheur"



Data 06/05/2010 - Signora Colette G. -(Francia)